by Erica, Fundraising Specialist, RocketSportsMedia.com
MONTREAL, QC. — It's time for us all to team up for a common goal.
When a natural disaster strikes, especially on the other side of the world, it can be hard for us to imagine the extent of the damage. We hear of people losing their lives or their homes, and of aid efforts rushing in to do whatever is possible. We hope that there's enough food and medical attention for the victims. One thing that I know I haven't always thought about is what happens as a country tries to rebuild after such a disaster.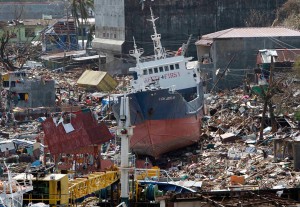 It's happened (unfortunately) many times in the past, and it's happened again in the Philippines in the wake of Super Typhoon Haiyan (called Yolanda in the Philippines.) Ten thousand people are believed dead; hundreds of thousands more have lost their homes. The areas most affected by the typhoon are home to about 15 million people. It's quite possible that we in North America haven't even seen the full effects of the devastation on the news (see video below from Tacloban City.) We might be lacking some details, but we know one thing for sure: there are people who need our help.
As such, Rocket Sports Media, through its Rocket Power charitable program, is asking for your help by introducing the
All Habs Typhoon Relief Effort
.  
All Habs Hockey Magazine
is an RSM publication that brings together hockey fans of the Montreal Canadiens.  This tight-knit community is unwavering in its support of the Habs.  This passionate fan base has expressed a desire to pull together in tough times to demonstrate their caring spirit.
But this effort goes beyond team affiliation.  Rocket Power is a mechanism that we have carefully developed over the past four years to unite sports fans to make a difference in the lives of those in need.
For our friends south of the border, we suggest that you contribute to the
American Red Cross
to help their global response effort.
We have set a modest goal — we hope that you will join your fellow hockey friends to help us reach it.  Please contribute what you can or challenge fellow fans:
Pledge a dollar amount for every Habs goal or win
Pledge a dollar amount for every loss by your least favourite team
Choose a player and donate his jersey number or pledge for every point or penalty minute he gets
Get your hockey pool involved and have people donate after they lose
We want to hear your donation story! Share it with us in the comments section.
As an added bonus, the Canadian government has announced that they'll match every donation made to registered Canadian charities for typhoon relief. Your donation will go twice as far, and may be tax-deductible if you're a Canadian resident, so what are you waiting for?
Get creative! Help us reach our goal. You'll feel really good about it, and you'll be helping people who desperately need it. Visit
the Rocket Power donation portal
– your money goes directly to the Humanitarian Coalition – and make a donation by December 1st, 2013.
---
Rocket Power is an initiative pioneered by Rocket Sports Media designed to mobilize hockey fans to support charitable organizations and to get involved in their communities.
---